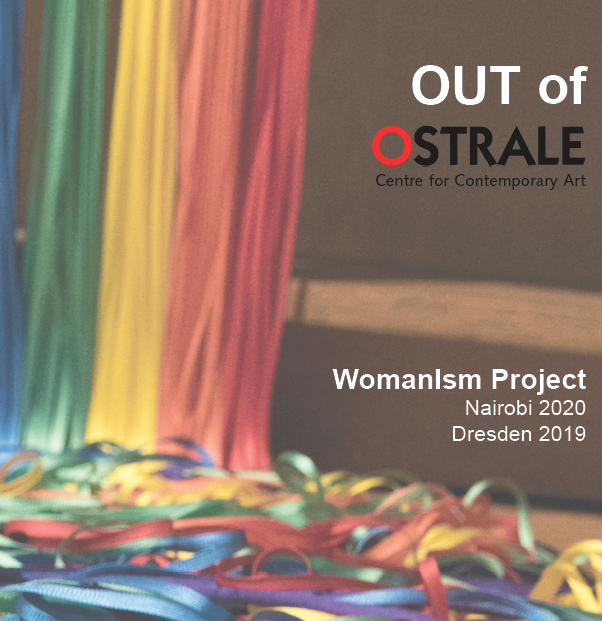 Get Your Foot Off My Neck
Artists: Sonia E. Barrett, Frenzy Höhne, Ramona Seyfarth, Carolin Koss, Immy Mali, Hanna Nitsch and Usha Seejarim
Curator: Syowia Kyambi
Circle Art Gallery, Nairobi, Kenya
The second stage of the WomanIsm project was planned to take place in March 2020 in Nairobi (Kenya) and bring together, in frame of an artistic residency and a closing exhibition, a great selection of German and African female artists.
However, the current worldwide Corona emergency challenged many cultural events, including ours. Nevertheless, thanks to the great possibilities offered by this digital era, we are proud to present our WomanIsm artists and their beautiful artworks here on our website in the form of an online exhibition.
We want to set an example of the relevance of art and culture in these difficult times, and provide a platform for artists who right now are partcularly affected by the current situation.
Seejarim's "Trophy Wives" screams get off my neck. Barrett's "Telling Time" asks why is the foot on the neck. Why do we treat time and nature in an oppressive manner? Höhne's work "SOMA SOMA - no willpower or exercise required" speaks about choices, about desires, about wanting to drink an idea that won't fill you. Childhood memories fill Mali's work. Her letters to her childhood self engage in the extraction of the foot from the neck. Koss's "The Obedient" is a dystopic search for a different future, a future unknown. Seyfarth's "I AM" is in the neck, looking at it from the inside out. Nitsch's work, "La Source / Die Quelle" lays bare the vulgarity within our society. The repeated ambush on the private and the spectacle that's created in what we consume. What we repeatedly do is step on the neck. And repeatedly the victims labor to remove the foot over and over and over. With capitalism, with the violence of our economies, with the violence of mono-culturalism, with racism, with sexism, the labor of removing feet from necks remains. Sadly, it is constant. The world is moving to more desperate times. We are suffocating, ourselves in each other. The work remains potent. Can we get to a future where there are no longer feet on people's necks?
"Get Your Foot Off My Neck " speaks to all of us, rich and poor, black and white, the yin and the yang, male and female, and the definitions in-between. It is our duty to consistently remove the foot from the neck. It is our duty to consistently revise whether our feet are on other people's necks. And if so to remove them, to remove them now. (Syowia Kyambi)
CLICK HERE TO DOWNLOAD
THE EXHIBITION BROSCHURE (PDF)
also featuring the artists' work exhibited at the
OSTRALE Biennale O19, Ismus
(2019. 03. 07. - 01.09. Dresden)