News
The OSTRALE Catalogue is here!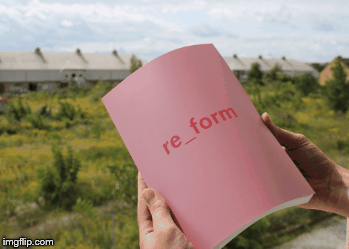 The Catalogue is available at the cashier and you can order it under post@ostrale.de
Price: 25€
Opening on Juli 28th 2017

Impressions of the Opening of the "OSTRALE-Biennale for Contemporary Art", Dresden.
Photography: (c) Peter Fischer
"OSTRALE - Biennale for contemporary Art"
11th International Exhibition Dresden / 28.07. - 01.10.2017

OSTRALE – Biennale is the third largest exhibition for contemporary art in Germany. It is not a sales exhibition per se, which gives us the freedom to discuss socially relevant issues apart from the market development. OSTRALE's guiding principles, such as peaceful coexistence, acceptance of the stranger / unknown, respect for each other, religious diversity and internationality, are reflected in the exhibitions.

By definition a re_form is a systematic and non-violent change of existing conditions without ignoring the essential intellectual and cultural foundations. The aim of a reform is improvement. Contemporary Art can ask questions and generate solution approaches in a nessecary re_form-process. The guiding theme "re_form" deals especially with the question of organised change of existing cultural policy and cultural systems in Europe, Germany and particularly in our town, that is preparing to apply as "European Capital of Culture 2025".

Further Information and exhibiting Artists

Opening Programme, 28th of July 2017
6 pm, Dresden Fair
soundlab inside artistgroup SARDH mit BALOG JOEL SCHWEIGER WORMSINE VOXUS IMP (DEU)
hillumination und Performanceshow mit Said Dokins und Leonardo Luna (MEX)

Opening Speaches, 6.15 pm, Dresden Fair
Ministerialdirigent Thomas Früh, Sächsisches Ministerium für Wissenschaft und Kunst
Alexander Nym, Diplomatischer Dienst NSK-Staat // Geschäftsführer Kultur Aktiv e.V. Dresden
Anna Fedorczuk, Prezes Zarządu // Vorsitzende von Czapska Art Fundacija // Posen (POL)
Patrick J. Fenech, Vorstand von Fondazzjoni Kreattuvità // St. James Cavalier in Valletta (MLT) // Kooperation ECoC 2018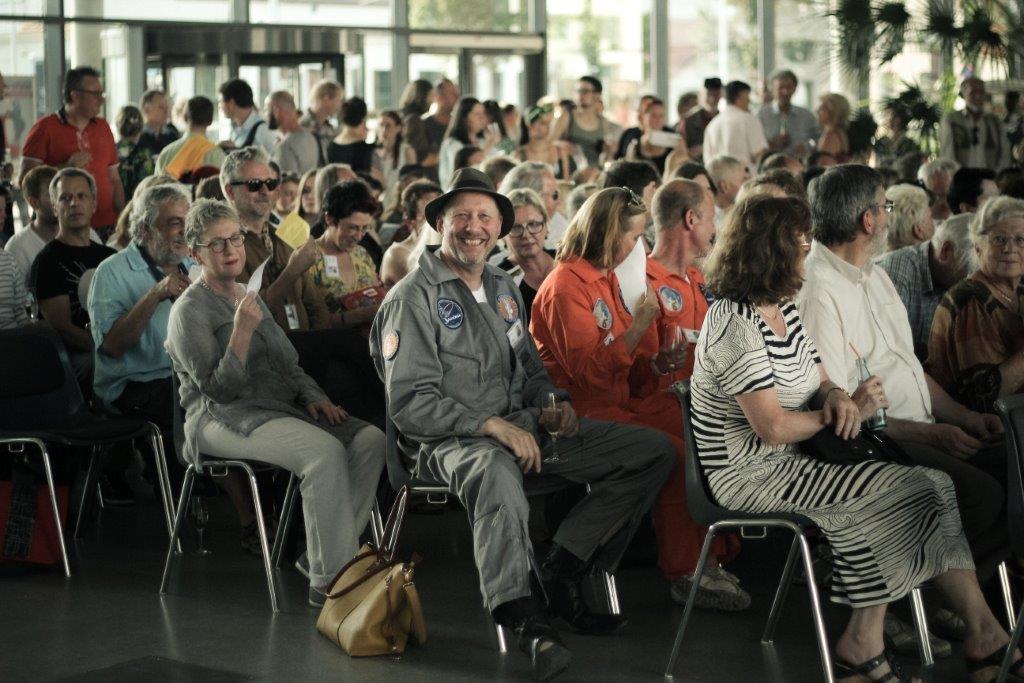 from 6.45 pm, Dresden Fair
Kay Kaul (DEU)
...and there is also something next to Zwinger and Frauenkirche - the internationally widely acclaimed and for more than ten years takes place every summer in Dresden exhibition for contemporary art. Kay Kaul has accompanied OSTRALE for a year, illustrating in his film an exhibition cycle of planning and construction, from opening to ending.

7.15 pm, Gate 6
Committee for Unsolicited Business (Luk Sponselee und Werner Klompen / NLD)
Kollision-X – 25'00"
Part 1: Mega Stylo Ensemble
Part 2: Choreography for Pappe Camper
Part 3: All Sweets Comes from the Inside
From outside within squat is the first thing shows itself. A strange cartoon like appearance that ground to a halt. Clear that there is a situation where an action has been in advance so that this image was reality. The vehicle as if it is sent by post has a smile and has found his place. To view his peeking in world in the different than the space itself is allowed.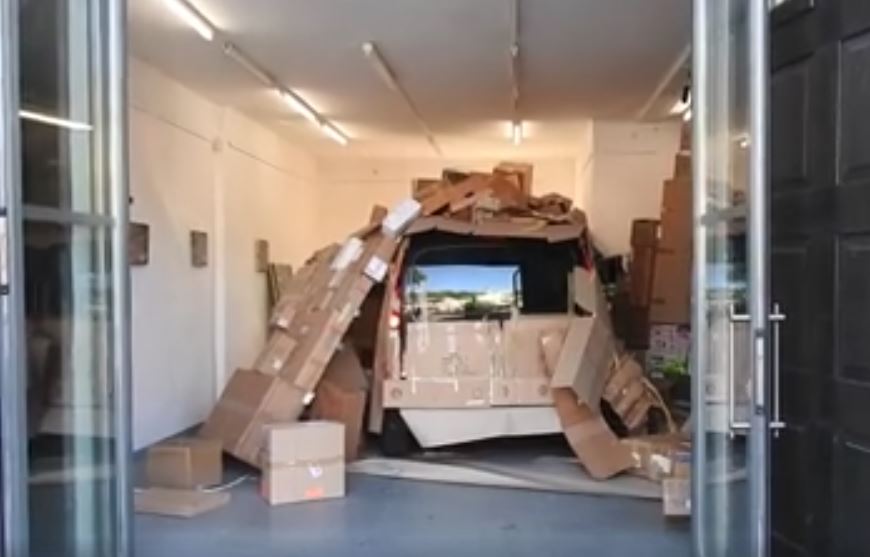 7.15 - 10 pm, outdoor area
Giovanni Gaggia (ITA)
Miratus Sum
Matters of identity, ritual, self-denial, and sharing are cornerstones to performances that are always intended as an interaction with another human being. In them, the identities coming into play suffer mutual contamination and call to mind shamanic rites and rituals of initiation through which the deeper corners of human spirit transform.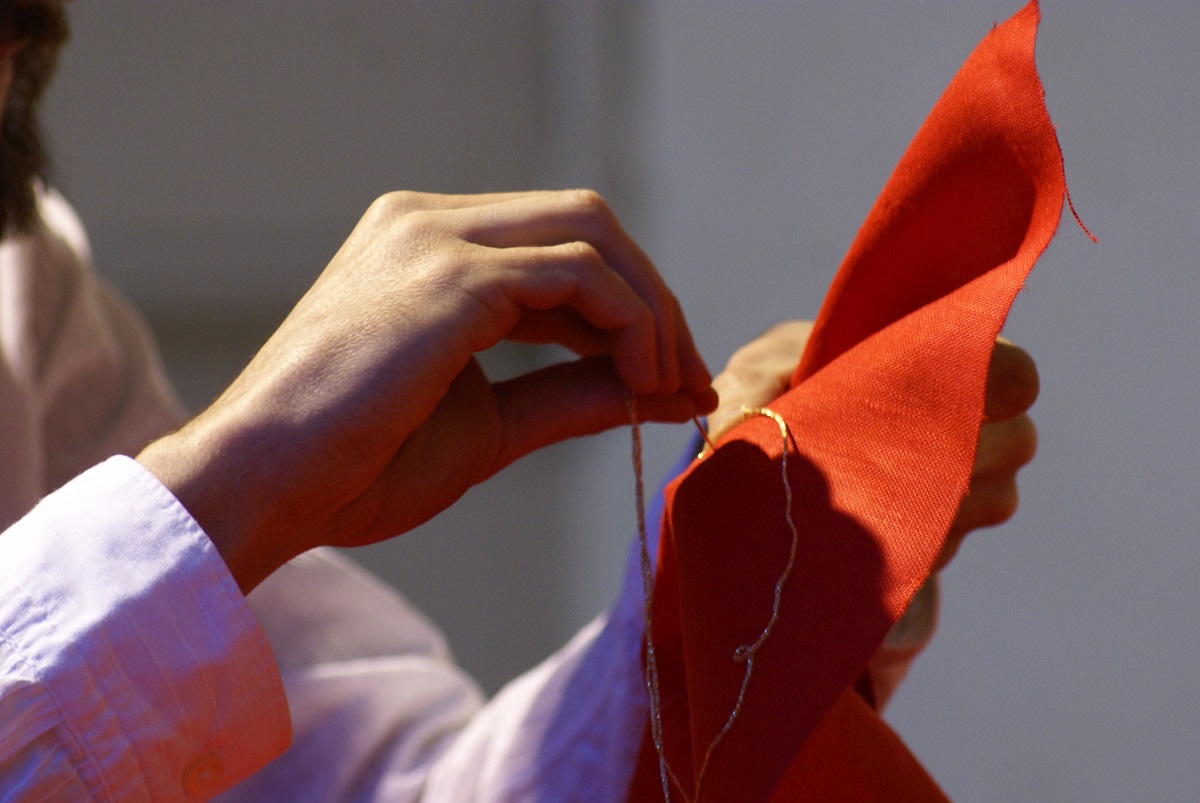 7.40 - 10 pm, Gate 7 / continuing Performance every Friday, 6 pm
DEREVO (DEU, RUS) von Elena Yarovaya
Try walking in my shoes – dance performance, 25'00"
"Before condemning someone, take his shoes and walk his way, try his tears, feel his pain. Stumble upon every stone that he stumbled upon. And only then you can say that you know how to live properly." – The Dalai Lama

8 - 9 pm, Gate 5 / additional special dates
Klasse Deggeller, Hochschule für Bildende Künste Dresden (DEU)
The title 'OUTSIDE THE FRAME' is programmatic. Philosophically speaking, it means everything that is not visible outside the picture's contents; artistically, it means that which remains transparent underneath the surface.
The artistic creators from the video work: Hannah Ernste, Romy Rexheuser, Sebastian Schrader (students from the HfBK Dresden)
Artistic directors: David Campesino and Prof. Marc Deggeller (Professors from the HfBK Dresden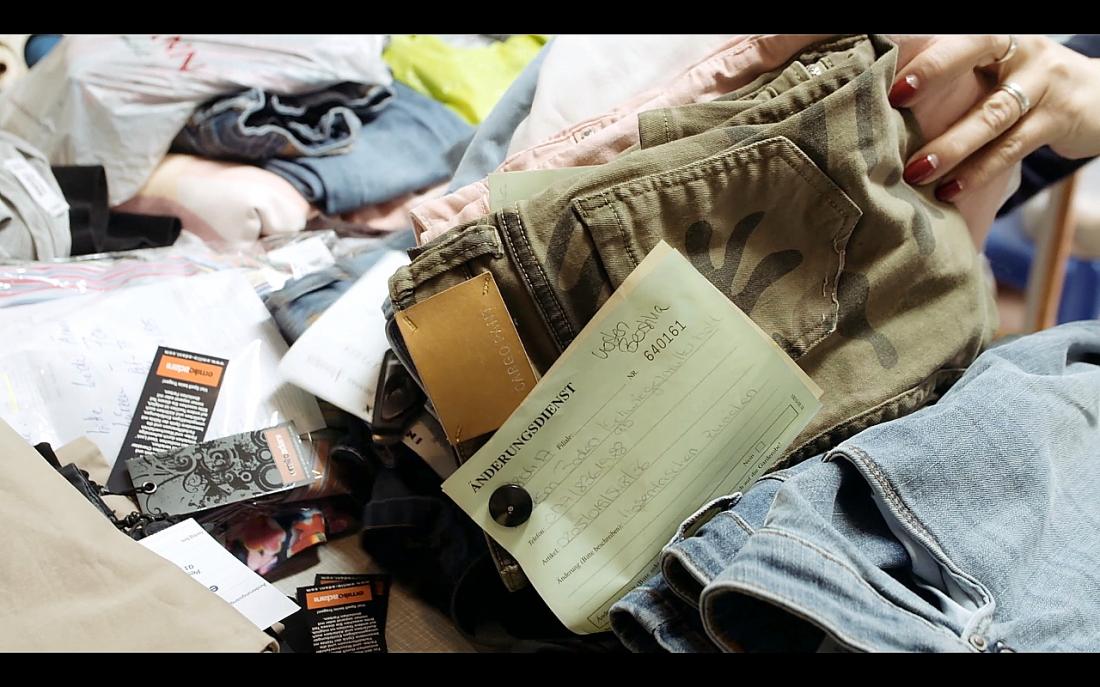 21 - 22 Uhr, Tor 18
Volodymyr Topiy (UKR)
Luft, air, воздух, повітря...
Performance show about air and time.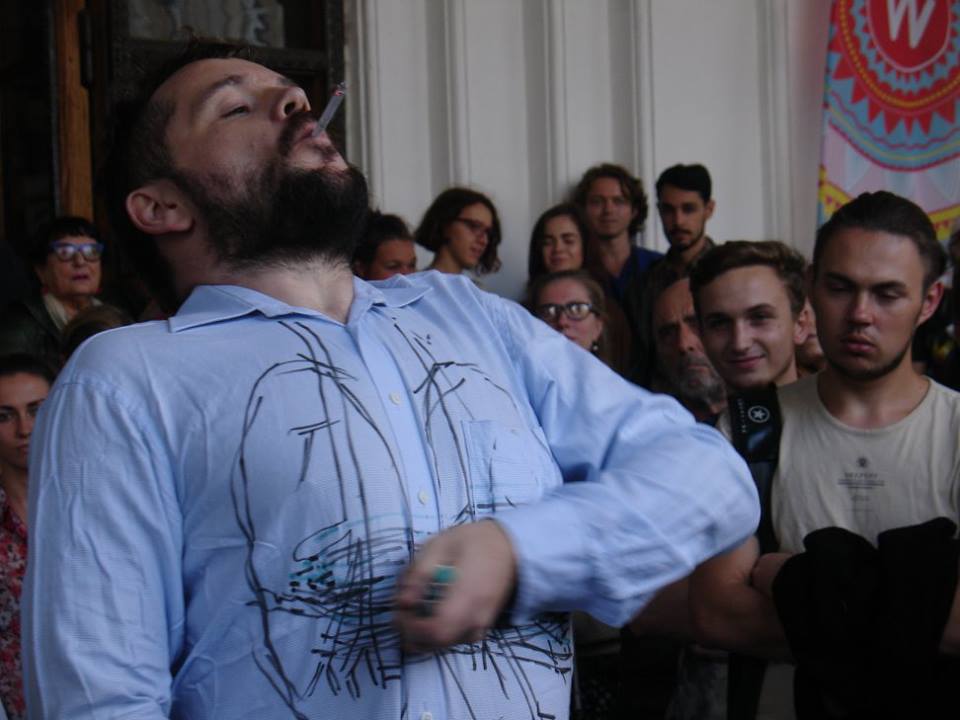 10-11 pm, exhibition area
Wiola Ujazdowska (POL)
Luxury problems
Mourning is a luxury. In ancient times there were a professional mouners - women that were hired to cry. In this work the artist became a mouner to weep after a death of her mother. Over-Expresing trauma to make it a performance Act. The Body Of A Mouner Is Set Together With Geometric Forms That Symbolize The Inorganic.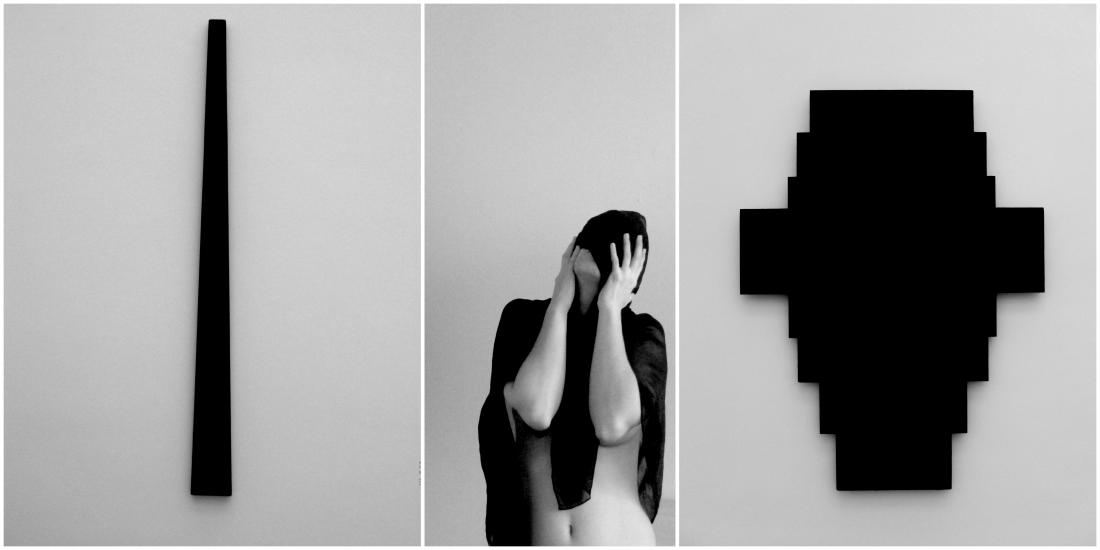 Continuing Performance, outdoor area
Serge Feeleenger (BLR)
Way of 10 brushes – Live-Painting
"When I discovered the technique of ten brushes, I could not to think how much more it means than I imagined. The Technique of Ten Brushes is not just another way to paint. It's a way to reconsider the art of painting."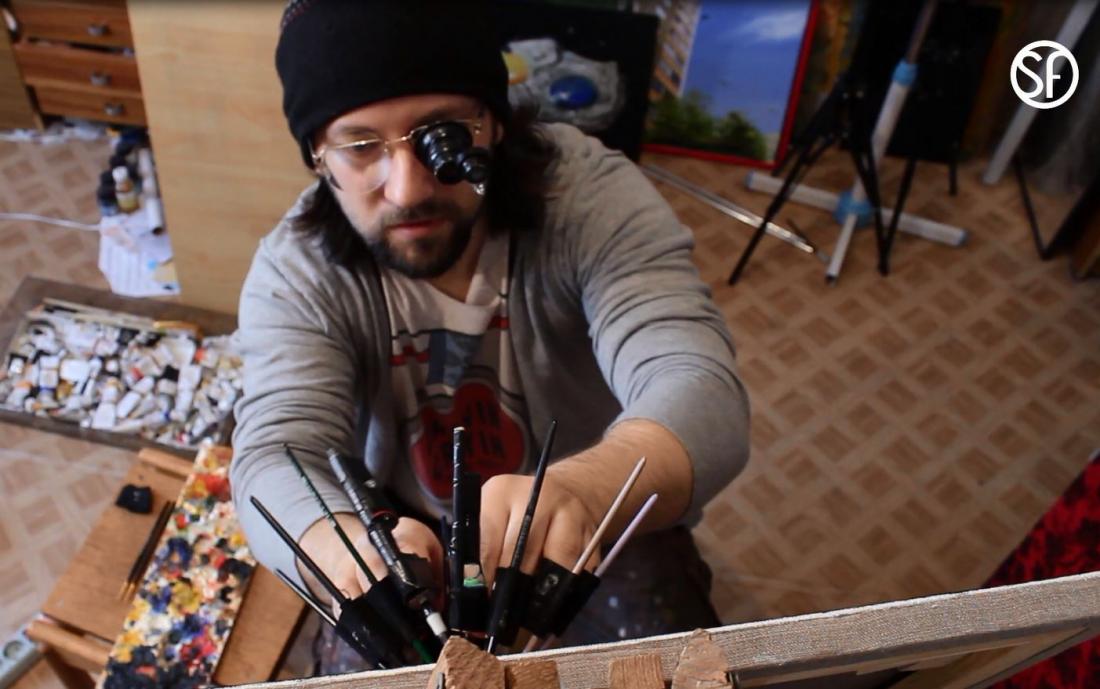 OSTRALE-AudioGuide "AllSense" for visually impaired people
Sponsored by "Aktion Mensch" // Erstmals vermittelt die OSTRALE Blinden und Sehbehinderten den Zugang zur Kunst auch mittels einer eigens programmierten, kostenlosen App. AllSense-Flyer (pdf)
"Die App "AllSense" ist ein Audio-Guide. Dadurch ist es möglich einen Querschnitt von 25 ausgewählten Arbeiten er Ausstellung zu repräsentieren und mittels Autodeskriptionen vorzustellen. Kunstwerke und andere Orte auf dem Ausstellungsgelände, wie Gastronomie, Toiletten etc., werden von uns mit sogenannten Bluetooth-Beacons ausgerüstet. Nähert sich der Nutzer der App diesen Punkten,wird die Audiodeskription angesagt.", beschreibt der selbst blinde Dr. Jan Blüher, der die App mit seiner Firma visorApps im Auftrag der OSTRALE programmiert hat.

Zusätzlich zur App wird ein visuelles und taktiles Leitsystem Sehbehinderten und Blinden Orientierung geben. Die App gibt es sowohl für iOS als auch für Android-Geräte, sie ist im Play Store, App Store sowie mit vor Ort ausleihbaren Geräten zugänglich.



Video Art at the "LOOP Festival Barcelona"
OSTRALE-Art at the LOOP Festival www.loop-barcelona.com, Barcelona 18 – 27 May 2017. The selection of international artists for the "Visions, Visionats and Visionaris" program, shown at the Loop Festival, was curated by Agustí Fructuoso (TPK) and OSTRALE Director Andrea Hilger.

Screenings and video installations by Anne Müller (Germany / OSTRALE), Jose Mart, DROPP Collective (Alexandre Astier, Matthieu Capellier, Gregoire Fabvre, Vincent Rubin), Alberto Lozano (Catalonia) and Marcus Sharar (Israel / OSTRALE).
Venue place: TPK Art i Pensament Contemporani, www.tpkonline.com, http://loop-barcelona.com/venue/tpk-art-i-pensament-contemporani/, Av Josep Tarradellas 44, 08901, L'Hospitalet (Barcelona)
A project by: DROPP Collective & OSTRALE
"Valletta International Visual Arts (VIVA) Festival"
From May until July 2018 OSTRALE for contemporary arts is guest in the European Capital Culture, in St. James Cavalier, in the German Maltese Circle and in the Valletta Contemporary, Malta. In April 2017 we have been already in Valletta realize an exhibition in the context of the "Valletta International Visual Arts (VIVA) Festival".
MEDIATRIXISM / "Valletta International Visual Arts (VIVA) Festival"
Exhibition at the"German-Maltese Circle", Valletta, Malta / www.viva.org.mt
Artists: Anne Müller, Martin Müller / Curator: Andrea Hilger / 15.4. – 15.5. 2017
"Fondazzjoni Kreattività", "St James Cavalier", "Goethe Institute", "META Foundation"